My guide to the best hotels & resorts in Bali
Last updated: November 23, 2022
My Favorite Hotels in Bali
• Best Legian Hotel: Padma Resort
• Best Seminyak Hotel: W Bali
• Best Kuta Hotel: Hard Rock Hotel
• Best Sanur Hotel: Andaz
• Best Jimbaran Hotel: Four Seasons
• Best Nusa Dua Hotel: Grand Hyatt
• Best Ubud Hotel: Viceroy
• Best New Hotel: Raffles Bali
Bali Hotels – Tips & Advice

• Where to Stay in Bali • Best Beaches • Hotels for Families

I love Bali. It's jam packed with great hotels and beach resorts. If I had to pick just one as my favorite it would have to be the Four Seasons in Jimbaran. Magical.
The best website for booking Bali hotels is Booking.com (safe, reliable, huge selection, best rates).
Best Luxury Hotels in Bali
Padma Resort (Legian) • W Bali (Seminyak) • Four Seasons (Jimbaran) • Grand Hyatt (Nusa Dua) • Four Seasons Resort at Sayan (Ubud)
Best Boutique Hotels in Bali
Viceroy (Ubud) • Ecozy Dijiwa (Canggu) • Jimbaran Puri (Jimbaran)
Best Cheap Hotels in Bali
Kuta Beach (Kuta) • Febri's Hotels & Spa (Kuta) • Puri Cendana Resort Bali (Seminyak) • The Open House (Jimbaran) • Alam Indah (Ubud) • Nick's Pension (Ubud)
Where to stay in Bali? My favorite beach towns on Bali are Jimbaran (quiet stretch of beautiful sand, great seafood restaurants, luxury hotels) and Seminyak (nice beach, trendy restaurants, quality hotels). My favorite inland town is Ubud (wonderful art, culture, and food; surrounded by rice paddies and countryside).
Bali is a great year-round destination and weather shouldn't make a huge difference in deciding when to visit Bali. That said, expect the least rain and most sun from April to early November.
See Also: Bali Hotels for Families.

On This Page

The 37 Best Resorts in Bali


Best Resort in Kuta – Vast grounds, massive pools, and endless family-friendly facilities – yet, remarkably, in downtown.
• My review • Check prices for Hard Rock Hotel


Best Resort in Southern Bali for Charm and Romance – Built in the 1970s, Poppies still exudes such history, elegance, and class within an oasis in downtown Kuta.
• Check prices for Poppies


Best Apartments in Southern Bali for Families – Very rare collection of huge and well equipped apartments with kitchen, living area, and up to three bedrooms in top location.
• Check prices for the Anantara Vacation Club


Best New Resort in Southern Bali – Exquisite luxury and fantastic facilities in superb position along the pulsating street and sandy beach.
• Check prices for the Bandha Hotel & Suites


Best Resort in Legian – Long-established and so central, it has massive gardens and marvelous facilities, especially for families.
• My review • Check prices for the Padma Resort


Best Resort in Seminyak – With vast gardens and fantastic facilities, the beachside setting and village-style layout are superb – and in downtown Seminyak.
• Check prices for the Oberoi Beach Resort


Best Resort in Seminyak for a Romantic Holiday – Luxurious suites with a Jacuzzi, secluded villas with private pool, and one of the most magical beachside pools imaginable.
• Check prices for the Seminyak Beach Resort

8.

W Bali – Seminyak


Best Resort in Bali for Pools – With Infinity edges and swaying palms, as well as 'beaches', 'islands', and 'waterfalls', the pools are stunning for their size, design, and position.
• My review • Check prices for the W Bali


Best Boutique Resort in Canggu – Quiet and well equipped rooms with private gardens or private pool in thriving area; also butler service and super-friendly staff.
• Check prices for the Ecozy Dijiwa


Best Resort in Southern Bali for History – With antiques and relics all over, it oozes so much class, charm, and history – but also very convenient.
• Check prices for the Hotel Tugu

11.

Andaz – Sanur


Best Resort in Bali for Tropical Gardens – Very new, outstanding for families, and some of the most magnificent gardens imaginable anywhere in Asia.
• Check prices for the Andaz

Best Resort in Sanur for Families – Newly renovated throughout, the central location, world-class facilities, and vast gardens are adored by families.
• Check prices for the Hyatt Regency


Best Resort in Sanur for Facilities – Long-established and so traditional, with adults-only wing of rooms and pool, but also family-friendly with kids club, tennis courts, and playground.
• My review • Check prices for the Segara Village Hotel


Best Resort in Sanur – Since 1962, the 'Cape of Flowers' has been oozing serenity, tradition, charm, and romance – all in a top-notch location.
• Check prices for the Tandjung Sari Hotel


Best Resort in Southern Bali for Beach – Massive, convenient, traditional, and world-class facilities, it faces arguably the most beautiful beach in Bali.
• My review • Check prices for the Grand Hyatt


Best Resort in Nusa Dua for Facilities – Facing a sublime beach, it offers tennis courts, abundant family activities, games room, kids club, and seven pools.
• My review • Check prices for the Laguna

17.

Meliã – Nusa Dua


Best Resort in Nusa Dua – One of the finest settings anywhere in Bali, with marvellous beach, world-class gardens, wonderful facilities, and convenient location.
• Check prices for the Meliã

18.

Sofitel – Nusa Dua


Best Resort in Nusa Dua for Location – Stylish design, family-friendly, and gorgeous beach, with definite bonus of being walkable to facilities in neighboring Tanjung Benoa.
• Check prices for the Sofitel

19.

Westin – Nusa Dua


Best Resort in Nusa Dua for Families – Likeably compact, convenient, functional, and luxurious, the facilities are excellent at this self-described 'luxury family resort'.
• Check prices for the Westin Resort

20.

Conrad – Tanjung Benoa


Best Resort in Tanjung Benoa – Luxury suites and villas facing gigantic grounds or faultless beach, and with so much offered to families.
• Check prices for the Conrad


Best Resort in Tanjung Benoa for Families – One of two adjoining resorts called Family Paradise has a vibrant design, abundant facilities for children, and five types of rooms for families.
• Check prices for the Grand Mirage Resort

22.

AYANA – Bukit Peninsula – near Jimbaran


Best Resort in western Bukit Peninsula – With twelve pools and 90 hectares of tropical gardens, there's so much luxury and elegance across an extraordinary clifftop setting.
• My review • Check prices for the AYANA Resort

23.

Hilton – Bukit Peninsula – near Nusa Dua


Best Resort in Bukit Peninsula for Facilities – Truly massive resort on a cliff-top with pools featuring 'beaches', as well as tennis courts, amphitheatre, and all sorts of family activities.
• Check prices for the Hilton Resort

24.

The Ritz-Carlton – Bukit Peninsula – south of Nusa Dua


Best Resort in eastern Bukit Peninsula – Sheer opulence, absolute extravagance, and breathtaking setting close to Nusa Dua – and ideal for families.
• Check prices for the Ritz-Carlton


Best Resort in Jimbaran – Pool villas offering tranquillity, opulence, seclusion, and eye-popping sea views.
• My review • Check prices for Four Seasons Jimbaran


Best Resort in Jimbaran for Facilities – Being substantially renovated in 2022, it has vast tropical gardens, six pools, tennis courts, and an excellent kids club with abundant activities.
• Check prices for the InterContinental


Best Boutique Resort in Jimbaran – Hidden gem where adorable villas and cottages face the perfect beach, manicured gardens, and palm-lined pool.
• Check prices for the Jimbaran Puri


Best Resort in Jimbaran for Families – Staggering size, mall attached, and amazing facilities for families with children of all ages.
• Check prices for the Mövenpick Resort & Spa


Best Resort in Southern Bali for Pool Villas – Almost redefining the word 'luxury', the 32 very secluded and peaceful villas are spread across an incredible 23 hectares.
• Check prices for Raffles Bali


Best Resort in Central Bali for Setting – Unrivalled luxury and heavenly pools in a dramatic setting facing a ravine, forest, river, and rice-fields – yet in downtown Ubud.
• Check prices for Komaneka at Bisma


Best Hotel in Ubud for a Romantic Holiday – Traditional, serene, and charismatic, with adorable bungalows in spectacular ravine setting close to downtown and Monkey Forest sanctuary.
• Check prices for Alam Indah


Best Resort in Ubud for Facilities – Unimaginable opulence in a breathtaking, riverside setting, with stunning pool, world-class spa, and kids club with imaginative activities.
• My review • Check prices for the Four Seasons Sayan


Best Resort in Ubud – Sophisticated and romantic, a family-run and award-winning haven with personalized service and magnificent setting.
• My review • Check prices for the Viceroy


Best Boutique Resort in Eastern Bali – Cute, eco-friendly, and peaceful, with perfect beachside position and lovingly furnished rooms.
• Check prices for the Aquaria Eco Resort


Best Resort in Eastern Bali for Sea Views – Serene and secluded, with all rooms providing direct views of the ocean dotted with islets and beach lined with traditional boats.
• Check prices for the Hotel Genggong


Best Resort in Bali for Tropical Island Vibe – Sumptuous and serene villas in idyllic location between genuine village and powdery-white beach.
• My review • Check prices for Indiana Kenanga

37.

Tamarind – Nusa Lembongan


Best Resort on Nusa Lembongan Island – So loveable and convenient, with large, quiet and stylish villas (with up to three bedrooms), and perfect rooftop pool with extensive views
• Check prices for the Tamarind Resort
KUTA – THE BEST HOTELS

The 12 Best Places to Stay in Kuta & Tuban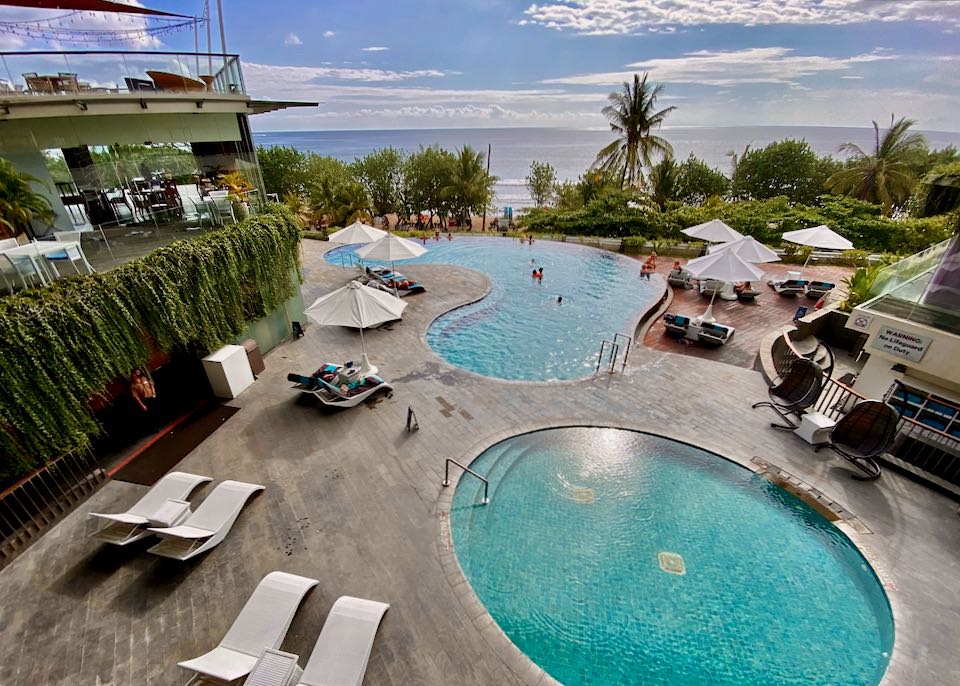 Pictured above: Sheraton Kuta Resort

The hub of the Bali tourist scene, Kuta is busy, noisy, hectic – and a lot of fun. It's where you'll find the most nightlife in the form of large thumping dance bars. Crowds are younger but older travelers are in the mix too. This is the busiest beach in Bali but still a great place to suntan and swim. Also, a great place to take beginner surf lessons.

Vast grounds and endless family-friendly facilities – yet in downtown Kuta.
This inconceivably massive resort is, remarkably, on the busiest corner of Kuta. The Hard Rock theme continues throughout, e.g., autographed guitars line the walls, and an immense cocktail bar is plastered with gold records. But the main attractions for many are the pools, which never seem to end. They feature 'islands,' a 'beach' with volleyball courts, lifeguards, a beach club, and huge thatched gazebos. As expected, all types of rooms and suites are luxurious and face extensive gardens nicely distant from the traffic outside. Probably the finest resort on Bali for families, the Hard Rock provides a children's pool with a playground in the water; two exhilarating kids clubs with extensive activities for different age groups, and a range of other fun things for the whole clan. Yet – incredibly – the main entrance is only 50m from Kuta Beach and just a few minutes' stroll from the world-class Beachwalk Shopping Center.

Stylish, sophisticated, nicely-located, and fab for families.
With its eye-catching layout and design, this five-star resort offers much more charm and elegance than the old-fashioned and rather outdated rivals nearby. Considerably larger than initially expected, the ANVAYA is popular with those on a romantic getaway, yet also impressively set up for families, with eight pools, plenty of activities, Family Premiere Rooms, and a small but engaging kids club. The elegant rooms and suites feature modern design coupled with Balinese décor rarely seen in the Kuta region, and most of those at ground level provide direct access to the lagoon pool. The onsite spa and restaurants are also as classy as expected. And the location is certainly a major attraction: it faces the finest beach in Tuban (South Kuta) and is easily walkable to two malls (Discovery and Lippo); the world-class Waterbom waterpark; and numerous places to shop, eat, and drink.

Unique charm, ambiance, and tranquillity in the midst of chaotic Kuta
The name of this adorable hotel emanates from the Balinese kulkul tower at the front and the Indonesian word for 'nature.' It is somehow squeezed between two mega-resorts, yet it almost resembles a traditional Balinese village. The low-level buildings are surrounded by lovingly landscaped gardens packed with rattan furniture and dotted with ponds, palms, statues, and fountains. The two pools are adequately sized, and both feature a bar and lovely wooden decking. The standard rooms are very comfortable and contain a veranda/balcony. Accessible along a stone path, the villas are airy, tranquil, and secluded. These feature a Balinese-style thatched roof, a wide veranda, a four-poster bed, and extensive windows that maximize light and views. All rooms are at least 100m from the relentless traffic along the beachside road, and the hotel entrance is, remarkably, within 50 metres of Kuta's famed beach and sunsets, and its endless cafés, bars, and shops.

Superb facilities, terrific location, and extra special for families.
While this resort does not directly face the ocean and, therefore, no rooms offer sea views, guests can still enjoy the private Beach Club very close by. The main pool, with its 'waterfalls,' volleyball nets, and swim-up bar, is truly massive. Another caters just to children, and a third pool is for adults only. All rooms are very comfortable, and those specifically designed for families feature bunk beds for up to three children. Most rooms overlook the pools and extensive gardens, but some do face the carpark and entrance road, so choose carefully. The two main selling points are the location – walkable to the Discovery and Lippo malls and the world-class Waterbom waterpark – and all the facilities for families, which include two cheerful kids clubs, a 50m waterslide, and a range of fun activities all day.

Perfect position for Kuta's major attractions: shopping, surfing, and swimming.
The little sister to the nearby Sheraton Hotel (reviewed here), the new four-star Aloft hotel is unashamedly hip and quirky – and instantly likable. With the words 'SAVVY' and 'SASSY' appropriately displayed, the lobby pulsates with flashing lights and plays what it labels as 'DNA music.' It's quietly positioned 200m down a dead-end lane and adjacent to an entrance to the world-class, multi-level Beachwalk Shopping Center, which is packed with places to shop, eat, and drink. What's more, the Aloft is only a five-minute stroll to Kuta Beach, renowned for its sand, surf, and sunsets. The rooms, which are compact and feature a colorful décor and innovative design, are dominated by a massive Smart TV that swivels for maximum viewing pleasure. Despite the limited space, the Aloft also provides a gym and outdoor pool overlooking the shopping center below.

Stylish, convenient, unpretentious, and old-fashioned – but in a good way.
The traditional design, with its masses of lotus-filled ponds and trickling fountains, is more appealing than most other resorts nearby. All rooms are spacious and tasteful, featuring contemporary Balinese décor, and face the sea and/or tropical gardens. The main pool with a swim-up bar is very shady, while the adults-only pool is lined with gorgeous gazebos, and a third pool is alongside the sea. Still part of the curved Kuta Bay, the beach in front of the resort is broad, and the sand is white, among the best in Tuban (South Kuta). The Bali Garden is also ideal for families with teenagers because of the excellent beach, pools, and location: adjacent to the Discovery mall (with familiar fast-food outlets), opposite the outstanding Waterbom waterpark, and next to a beachside path perfect for cycling. The resort is also close enough (500m) to walk to Kuta but distant from the comparative chaos over there.

So new, chic, and convenient – and already so popular.
Opened as recently as early 2022, the Tribe is already setting the standard among a revitalised area of northern Kuta (and not far from Legian). Facing the beachside road, this very stylish boutique hotel is unapologetically hip and caters so nicely to the younger crowds. It offers a range of compact rooms and suites at lower-than-expected rates, but there's nothing traditional about the design or Balinese about the décor. The Tribe is simply all about two factors: (1) the location – metres from the beach, which is considerably less crowded than just 200m further south or north, and a brief stroll to the world-class, multi-level Beachwalk Shopping Center, crammed with places to eat and shop; and (2) the rooftop, where the sublime, bright-blue Infinity-edged pool almost seems to drip into the sea.

Likeable, colorful, and wonderfully hidden from traffic and crowds.
Part of a small chain of luxury boutique hotels spread across Bali, the Amnaya is far more appealing than many other charmless and oversized resorts nearby. The distinctive mauve paint and wood-stained balconies are quite striking and all rooms are spacious. Most face the elongated and inviting pool, while the Family Suites feature two of everything – bedrooms, bathrooms, and balconies. And the villas are concealed behind lofty walls, yet still only a few metres from the pool. Located 150m along a tranquil path from the very busy road through Tuban (also known as South Kuta), the Amnaya is less than 400m from the beach and about 1km from shopping heaven at Kuta. Also, the hotel is close to a cluster of tempting eateries, convenient to the Discovery Shopping Mall, and behind the world-class Waterbom waterpark (which does make the resort a little noisy in places).

Chic, dazzling, loveable, and in a re-energised part of Kuta.
Squeezed alongside the equally adorable Bali Tribe hotel (reviewed here), the MAMAKA is the essence of a boutique hotel: compact, trendy, and so very easy to instantly like. Nothing about the layout or design is Balinese, but it's so vibrant throughout. The rooms and suites (with names like 'Swagger' and 'Top Gun') are highly functional and feature all the latest conveniences; some offer two bedrooms and a kitchenette. Bonuses rarely seen elsewhere include a free minibar during certain hours, self-service laundry, and breakfast (included). What's more, the glorious beach over the road is considerably less crowded than elsewhere in Kuta and rates are lower than probably expected. However, the major attraction is on the rooftop: sparkling pool, heavenly ocean views, lounge chairs, gazebos, bar, and outdoor cinema.

Exquisite luxury that could not be closer to Bali's most popular beach and mall.
The gigantic lobby sets the scene: waterfalls, men playing gamelan instruments, and young ladies in traditional costumes welcoming guests. This contemporary and fashionable resort is, quite remarkably, perched above the upmarket, multi-level Beachwalk Shopping Center and in the midst of downtown Kuta. Every room is opulent, as expected of this international chain, and features a vibrant décor and plush 'Sheraton Bed'. Many rooms are angled with a balcony offering beautiful views of Kuta Beach and its celebrated sunsets. The upper-level Infinity pool and adjacent gym also boast superb vistas and welcome breezes. And somehow the entire resort avoids most of the noise from the incessant traffic below. Note: in late 2022, the hotel was still undergoing extensive renovations to its rooms, restaurants, and other facilities.

Historic, elegant, and charming oasis within the chaos of Kuta.
One of the very first hotels built in the region, Poppies just oozes a romantic vibe. The gardens are sprinkled with fountains, bridges, ponds of goldfish, and thatched umbrellas with rattan chairs. The gorgeous cottages feature a corner sofa, thatched roof, open-air bathroom with sunken marble bathtub, and private patio facing flourishing gardens that provide privacy without isolation. The stylish pool is a decent size and lined with shady palms and blossoming bougainvillea, and alongside it are a library, bar, and Jacuzzi. Quietly secluded behind lofty stone walls and directly opposite the equally-renowned Poppies Restaurant, the hotel is – remarkably – only meters from a selection of shops, cafés, and bars, and a short stroll from the renowned Kuta Beach. Breakfast is included.

Newly-renovated and nicely-located, it's unfussy and terrific for families on a budget.
Far larger than initially expected from the lobby entrance, this four-star resort boasts a vast array of rooms in low-level buildings facing gardens rarely this extensive in downtown Kuta. Almost hidden behind a small arcade, the SOL is pleasingly quiet throughout, and the two bright-blue pools (one with a swim-up bar) are particularly shady from all the frangipani trees. The location is a selling point, too. It's between Kuta, rightly famous for its beach, shopping, and nightlife, and the northern part of Tuban (also known as South Kuta), which is lined with sports bars and restaurants offering live seafood. And the SOL is also recommended for families not seeking a far more expensive resort with a kids club. At the SOL, there is plenty of space to run around, some games are offered, and rooms with connecting doors are easy to arrange. What's more, it's an easy walk to the world-class Waterbom waterpark and rates are very competitive (often including a hearty buffet breakfast).

Hotels on Map: Pullman • AlamKulkul • The Stones • Akmani • Tribe • Kuta Beach • Sheraton • Kuta Seaview • Hard Rock • Poppies • Bali Garden • Amnaya • Bali Dynasty • Febri's • Holiday Inn • Patra
LEGIAN – THE BEST HOTELS

The 9 Best Places to Stay in Legian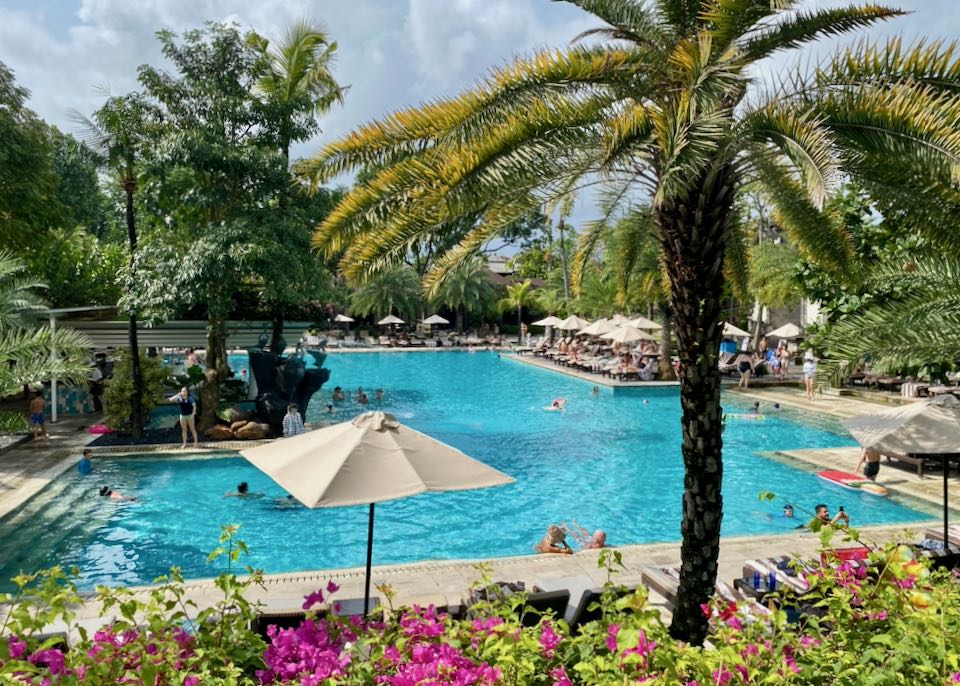 Pictured above: Padma Resort in Legian.

Legian is largely indistinguishable from Kuta other than it being calmer and quieter as you move north. There are still plenty of places to eat and drink, and the sand and surf are still great. The hum and nightlife of Kuta is just a short walk away.

So massive, traditional, convenient, and perfect for families.
In a gigantic area conveniently within walking distance of Kuta and Seminyak, this long-established five-star resort is based around lovingly landscaped gardens. Of the 13 categories of accommodation, the spacious and comfortable bungalows (called chalets) include a wide balcony/porch overlooking abundant tropical plants. The smaller Deluxe Rooms are in motel-style blocks, but still pleasingly traditional in design and furnishings, and patios on the ground-floor rooms spill out into one of four pools. Some suites have two bedrooms and are ideal for families, while the Presidential Suites, with three bedrooms, a private pool and butler service, are fit for, well, a president. The beachfront pool appears endless and has one of the most enticing swim-up bars imaginable. The younger ones would really enjoy the children's pool with waterslides, and all the fun activities offered at the supervised kids club and attached Games Center.

Wonderful apartments ideal for families and long-stayers in glorious location.
This newish four-star resort offers the sort of self-contained apartments rarely found in this part of Bali. Perfect for families and those staying a while, these apartments are huge. Each contains a kitchen with extras like a water cooler and rice cooker and plenty of luggage space for everyone. The extended balcony on the upper levels also adds to the immense feeling of space. For families, some apartments have two bedrooms and two bathrooms and the one on the rooftop with three bedrooms boasts a plunge pool. The shady pool sparkles, although most guests prefer the lovely beach just 50m away. Important extras like free bicycle rental, laundry machines, and free shuttle service to the shops in neighboring Seminyak add greatly to the appeal. Perhaps surprisingly there is also a kids club, which is a reasonable size and certainly colorful. The other attraction is simply the location in the most likEable part of the Kuta/Legian/Seminyak region: facing a very quiet beachside path and among a cluster of top-notch eateries.

Exquisite luxury, perfect position, and fantastic facilities.
With an ideal location set 100m from the main street and also facing the beach, The Bandha is easy to miss and far larger than initially expected. There are two distinct sections: one area faces the larger Lagoon Pool surrounded by extensive decking and abundant lounge chairs; another cluster of rooms is near the second pool, which is more popular for its Infinity-edges and setting just across from the beach. Most rooms on the ground floors offer direct access to a pool. And the suites are truly magnificent: some with two bedrooms (so perfect for families); many with a spa bath; one on the rooftop with a private pool; and a few provide the sort of direct sea views rarely possible in Kuta, Legian, or Seminyak. Also very appealing is the breezy lounge/café area on the rooftop, and the friendly, attentive service.

Compact and classy, with resort-style facilities but not the crowds.
This charming resort faces a serene stretch of beach far from traffic and is within a short stroll of the neighbouring regions of Seminyak (for boutiques and bistros) and Kuta (for bars and surf). Pleasantly compact and not overbuilt like neighboring hotels, the Niksoma features an appealing design of beige and maroon, as well as two pools with sea views and gardens scattered with lounge chairs and gazebos. The range of accommodation is also impressive: Deluxe Rooms are in small three-level buildings facing the gardens and inviting split-level pool; the suites, with a four-poster bed and marble bathroom, are perfect for a romantic getaway; and the (singular) two-bedroom Presidential Villa is the height of seclusion and luxury. A lane starting 50 meters north of the resort leads guests within five minutes of downtown Legian, crammed with places to eat, drink, and shop.

Vast, convenient, long-established, and popular with families.
The delightful Balinese style and charm starts at the entrance flanked by ponds of goldfish and extends to the lush gardens dotted with fountains. On the edge where chaotic Kuta blends into laidback Legian, one side of the resort faces a traffic-free pathway alongside the glorious beach. The many facilities include, unusually, tennis courts and a surf shop, as well as two very attractive and shady beachside pools. The standard rooms are smallish but comfortable enough, while the secluded and traditionally-designed bungalows have been lovingly renovated. Some villas have two bedrooms and many feature a private pool. The Little Starfish Kids Club offers more interesting activities (eg Balinese dance and squirrel feeding) than most rival resorts, and older children would really enjoy the games room.

Gorgeous design, expansive gardens, and prime location.
Less opulent and, therefore, more affordable than neighbouring resorts, the Bali Mandira features a pleasant Balinese-style design. Rooms don't offer sea views, but they do face the beautiful gardens with abundant ponds and statues. All rooms are spacious, and have been lovingly renovated with many Balinese touches. The cottages are nicely secluded and accessible along a village-style path. The extensive lawns are peppered with lounge chairs and palm trees, and the glittering beachside pool features a 'waterfall' and sandy 'beach' with thatched umbrellas. Another pool is for adults only, and a third for children has waterslides. Other reasons to stay include the modest kids club offering activities in Indonesian culture; the thatched two-level Azul Beach Club, which provides tasty meals and splendid views; and, of course, the glorious white sands and magical sunsets of Legian Beach just 50m away.

Stylish yet unpretentious, convenient yet quiet – what's not to love?
The Ossotel is centrally but peacefully located in downtown Legian. It is also surrounded by places to eat, drink, and shop, and only a two-minute walk via a laneway to a shady beach of white sand. The hotel is instantly likeable – for example, the modern design of the building contrasts delightfully with the old-style photos in each room. Despite the limited space throughout, all categories of accommodation are large – particularly the suites – and they feature a balcony or patio with comfortable outdoor furniture. Most on the ground floor have direct access to the very long lagoon-style pool which is lined with wooden decking and lounge chairs. The Ossotel is also small, so staff are attentive. Other reasons to stay are the favorable rates and smart café/bar facing the street.

Massive resort with impeccable location and superior luxury.
Along the invisible divide between Kuta and Legian, the five-star Pullman enjoys a prime position with so many shops, cafés, and other facilities in all directions, as well as the white sands of the famous Kuta Beach just across the (busy) road. Most rooms and suites are quietly distant from traffic and all provide a sizeable balcony/patio facing the vast gardens and/or main pool that dominates the resort. However, only accommodation on the third level or above would really enjoy genuine sea views. Although the design and décor throughout is rarely reminiscent of Bali, guests come (and return) for the impressive facilities that also include the gorgeous Infinity-edged pool on the rooftop providing sublime views; the world-class spa; and the two kids clubs offering engaging activities.

Charming, traditional, and mid-priced oasis.
Stretching across a vast property and facing a relatively quiet street lined with shops and cafés, this hotel boasts a setting and size envied by five-star mega-resorts. Unlike others of its vintage, the Three Brothers doesn't look or feel dated, with constant renovations ensuring modern comforts are offered without sacrificing charm and space. Rooms are mostly semi-detached; distant from the noisy pool, lobby, and roads; and in low-level, traditionally-designed buildings. Most also feature ornately-carved doors, a four-poster bed, and high thatched ceiling. The sparkling-blue pool (with a children's section attached) is almost hidden behind thickets of palms, and the well-established gardens are home to masses of birds enjoying the dense foliage that also ensures privacy among rooms. Staff are particularly helpful, and the street-side café uses organic ingredients. Sometimes, one of the very first hotels in Legian can still be one of the very best.
Hotels on Map: W Bali • Potato Head • Seminyak Beach Resort • Anantara • Royal Beach • Puri Cendana • Blu-Zea • Double-Six • Bali Niksoma • Melasti • Three Brothers Bungalows • Padma • Bali Mandira • Legian Beach Hotel • Mercure
SEMINYAK – THE BEST HOTELS

The 7 Best Places to Stay in Seminyak
Pictured above: Infinity pool at the Seminyak Beach Resort & Spa

Seminyak is where you'll find high-end dining, trendy clubs, and the best hotels of the Kuta-Legian-Seminyak region – which is basically one long beach town. The crowd here skews older and wealthier but it's still a fun and lively place. Lots of bars, nightlife, shopping, and music. The beach is wonderful too (and quieter than Kuta and Legian).

Luxury and modernity, somehow avoiding pretentiousness. In a colossal block the farthest north of Kuta that's still accessible from a main road, this resort is airy and welcoming, without feeling trendy or pompous like others. Everything inside and out is ultra-modern, with nothing Balinese. The rooms are in a block facing the sea, while the opulent villas – given monikers like 'WOW' and 'Extreme' – sacrifice views for seclusion, with high walls and dense foliage also offering privacy. Each villa features a huge pool, gorgeous open-air lounge/dining area, sophisticated stereo system, elongated sofa and even longer desk. The split-level, beachfront Infinity pools are massive enough to contain 'beaches', 'waterfalls' and 'islands' with palm trees. The W is close to a handful of shops and cafés so it doesn't feel too isolated, although you'll need a hotel buggy to reach the main entrance.

Ultra-modern boutique resort in prime location. At the end of an access road lined with classy bistros and boutiques, this inviting resort offers a comparatively small number of suites (not rooms). Each either faces the pool, with the ground-level ones having direct access from the veranda, or the smallish gardens – but some actually face the road. The suites are in an unexciting five-level block but very comfortable, spacious and modern, with bright-yellow furnishings, marble touches, a Jacuzzi, separate dressing room, massive sofa and unusual L-shaped balcony/veranda. The Infinity pool faces the beach, which is public and typically grey, but on-beach cafés that scatter beanbags along the sand at sunset are nearby. Considerably less isolated than others in Seminyak, the beachfront location is ideal, although the seaside path and waves can be surprisingly noisy.

Stylish, personal and quiet. Situated where the main road (which is not noisy) comes close to the beach, the rooms are spread along the 'garden wing' (on the other side of the road) or 'beach wing' with ocean views. Each room is comfortable without being opulent, and features modern Balinese décor, while the suites are far larger and more luxurious, even containing a Jacuzzi with sea vistas. The secluded villas with a private pool are close to the sea but don't have views of the beach, which is typically grey and shade-less, but still wide and wavy. The delightful Infinity pool is surrounded by palms and traditional-style statues and fountains, and barely 5m from the sand. It can feel a little isolated but is only 500m from the main shopping district and within a stroll of several upmarket bars and bistros.

Small, traditional mid-priced option – a rarity in Seminyak. Certainly not a 'resort', despite the name, this family-run hotel offers a small number of rooms with far more seclusion and privacy than some five-star resorts. Although recently renovated, it still retains traditional old-fashioned charm in design, setting and service. The rooms feature genuine Balinese décor, with ornately-carved doors, high thatched ceilings and wooden balconies, as well as plentiful arts and crafts, four-poster beds and rattan furniture. The gardens are well-established and the pool is inviting, although both suffer somewhat from road noise. It is located along a dead-end street lined with elegant bistros and boutiques, and only 100m from the beach, which is, however, characteristically grey and less appealing than Kuta's.

Tradition and charm – differing from the mega-resorts nearby. This hotel faces an expansive stretch of public beach (although greyish) at the end of an access road lined with stylish cafés and boutiques, so it's not as isolated as other resorts in Seminyak. The rooms are in three-level blocks but don't feel huddled together, with plentiful lawns and shady gardens to admire. With views of the gardens and/or pool from the wide balconies, all rooms are impressively spacious, with appealing dark wood and even traditional art in the sparkling bathrooms. The villas are separate, accessible along a cobbled-stone path, and hidden behind ornate doors and high stone walls. Each is luxurious and traditionally-designed, with lush gardens and a large private pool.

Uber-modern with faultless position, but lacks warmth and charm. Incorporating the former name of the access road, this resort oozes opulence, but nothing is remotely Balinese or even Asian. The design is all stone, glass and wood, almost futuristic rather than modern, and staff seem dressed like extras from a Star Trek episode. The luxurious suites in a five-level block feature funky furnishings and uninterrupted views of the sea, while the ground-level verandas have direct access to the beachfront Infinity pool. The resort faces an extended public beach, which is typically grey, and is very close to endless classy cafés and shops along the road and beachside path. The waves can be surprisingly noisy, but not as loud as the constant music from the Cocoon Beach Club next door.

Inviting and unpretentious mid-range option in heart of Seminyak. Only 200m from the beach, and flanked by numerous bars, bistros and boutiques, this resort is deceptively large. All rooms are in a block that faces the pool and is distant from the busy road. Although the furnishings are modest, but certainly comfortable, the Balinese décor is stylish and plentiful traditional art adorns the walls. The balcony/veranda also offers views of the tropical gardens, which are small but tastefully-designed. The two huge connecting lagoon-style pools are surrounded by distinctive striped chairs and even boast a sandy 'beach'. Other welcome attractions include a sunken pool bar, cinema, billiard table and tennis court, while there are also some limited facilities for children, and onsite parking.

JIMBARAN – THE BEST HOTELS

The 6 Best Places to Stay in Jimbaran
Pictured above: The fantastic beach at the Jimbaran Puri Hotel.

One of my favorite beaches in Bali though it could be a little too quiet for some – if you want shopping, nightlife, or trendy bars this isn't the place for you. Jimbaran is minutes from the airport so makes a perfect spot for the first few days before heading off to explore the island. At night the beach is lined with seafood restaurants that serve some of the best food on the island.

Tranquillity and faultless opulence in one of Bali's best locations. Cascading down an extensive hillside facing the sea, the villas are only accessible along cobbled-stone paths through ornate tropical gardens. The inside of each villa is spacious and sumptuous, with subtle Balinese décor, a stunning bathroom and plenty of windows to maximize the sublime views of the curved Jimbaran Bay and its famed sunsets. Each villa has a private pool with extensive wooden decking and a gazebo, and the edges of these and the main Infinity pool somehow blur into the horizon. Although only five minutes on foot from Jimbaran, the access road and paths around the grounds are steep, so buggies are available and can also whisk guests to the immaculate, private Jimbaran Beach Club and the renowned seafood cafés.

Hidden gem with angled palms across expansive beach frontage. At the end of a quiet road and fronting a magnificent stretch of powdery-white sand, this is designed like a Balinese village, with villas dotted among manicured gardens with Balinese statues. The cottages are spacious and old-fashioned (in a good way), but the smallish windows don't maximise the views and breezes. The secluded one and two-bedroom villas feature adorable Balinese décor and a gorgeous wooden decking around a largish private pool, while the main pool boasts an ideal tropical setting. And it is only 300m from the main street with all its shops and a short stroll to the beachside seafood cafés.

Massive resort offering luxury, convenience and traditional design. Although the grounds are vast enough to house eight restaurants and a helipad, the rooms seem huddled together. Inside, they are spacious, however, with likeable, modern Balinese touches and views of the gardens (not the sea) from the sizeable balcony – and the corridors lined with Balinese art and photos add to the charm. The villas are distant and separated, and boast individual private pools and their own beach. The extensive gardens are packed with statues, fountains and ponds choked with lilies. The resort fronts a public beach, which is narrow and sloping (so not ideal for sunbathing), but most guests laze about one of the three pools. The Kid's Club is impressive, while tennis, water sports and other fun activities are also offered. And it's all within a few minutes' stroll of seaside cafés and shops along the main street.

Sparkling-new and functional, with chic design and ideal location. Newly-built and necessarily squeezed into a compact space, this resort does not, however, feel cramped, but is remarkably breezy and welcoming. The design is very unusual – with nothing reminding guests of their location – but nonetheless appealing. The rooms are in a four-level motel-style block, while more luxurious and spacious units are in a five-storey column, with only two units per level. The saltwater pool spreads out expansively, so ground-level rooms have direct access via a ladder on the veranda, and the rooftop pool has striking views. The chic villas are secluded and split-level, and feature unusual blue/green colours. There's no direct ocean frontage, but is only metres from a fine public beach at Muaya, with its multitude of seafood cafés, best enjoyed at sunset.

Funky and budget-priced, close to shops and beachside cafés. This low-key, but modern and convenient, boutique hotel has a genuinely affable vibe, which is unusual in this region filled with resorts. All rooms – which are a bit cramped and in a two-level motel-style block – face the pool, which is long and inviting. Some might find the lack of a wall between the bathroom and bedroom a little disconcerting, but the décor is appealing, with colourful tiles and a commodious balcony. The delightful open-air yoga shala (studio) also offers massages and a library with hangout cushions. Along a quiet access road to the beach, it is 200m from the noisy main road with all its shops and only 100m from a cluster of seafood cafés.

Hotels on Map: The Open House • Jimbaran Puri • InterContinental • Le Meridien • Four Seasons Jimbaran Bay
BUKIT PENINSULA – THE BEST HOTELS

The 5 Best Places to Stay in the Bukit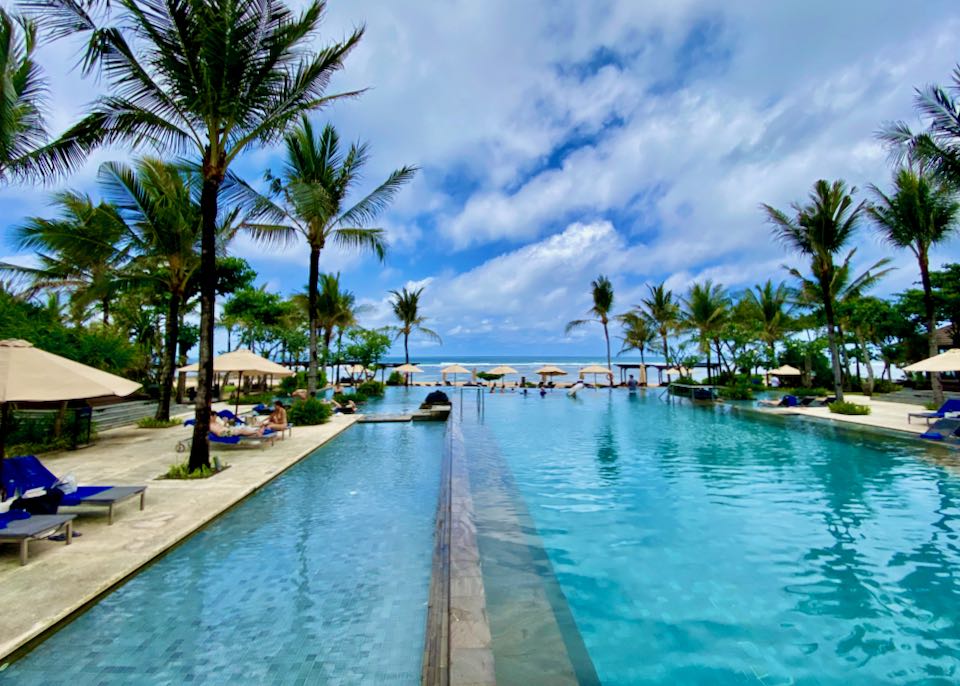 Pictured above: The beachfront pool at The Ritz-Carlton.

The peninsula south of Kuta and the airport is known as the Bukit Peninsula. 'Bukit' means 'hill' in Indonesian. The area is dry, hilly and rocky, with lots of scrubby bush – not good for growing rice, so there are no real villages. Outside of the beach areas of Nusa Dua and Tanjung Benoa (described separately below), there is little shopping and the beaches (such as Padang-Padang and Dreamland) are mainly for surfing. The cultural highlight of the Bukit is Ulu Watu, the isolated sacred temple on the south-west tip. In the middle of the peninsula is the rather odd Garuda Wisnu Kencana Cultural Park, designed for Indonesian tourists, with traditional dances, souvenir stalls and massive religious statues; and awesome views. There is no public transportation at all or tourist shuttle buses, so the only way to get around is by taxi – or rented car or motorbike (not recommended). Anywhere in the peninsula, taxis would normally have to be pre-ordered by your hotel.

Luxury and elegance in an extraordinarily spacious setting. The Ayana is about 10 minutes' drive from Jimbaran, with its seafood cafés along a perfectly curved beach. The resort boasts one of the largest grounds on Bali (the main entrance is over 1km from the lobby), so golf carts are provided. The 'deluxe' rooms in a four-level block facing the gardens (not sea) are elegantly furnished with exquisite Balinese furnishings and carvings, and not modern and bland like other resorts. The lawns are vast enough for putting greens, while the lush gardens are comparable to some city botanical gardens. The cliff-top Infinity pool is connected to the renowned Rock Bar on the tiny beach below by a funicular. Regular shuttle buses to the private beach club at Jimbaran and the mall at Nusa Dua help offset the isolation.

Luxury with extraordinary cliff-side setting and family-friendly facilities. This massive resort, only 4km from Nusa Dua (and accessible by hotel shuttle bus), is somehow carved from a cliff facing a lovely white beach (with dangerous waves at times). All accommodation is in four-level blocks and the cliff-top layout ensures minimal gardens. The 'family' rooms feature two bunk beds and a colourful Balinese-style décor, while the ground floor 'deluxe' rooms have access to a pool from the veranda and the villas have private pools. The lagoon-shaped pools are grand enough to feature 'beaches' and 'waterfalls', and the resort offers amenities rarely found elsewhere, eg a medical clinic and amphitheatre for traditional performances. With a water slide, and the Jungle Camp playground, it also caters quite well for families. (Formerly the Grand Nikko Resort.)

Impossibly immense and implausibly luxurious, with vast beach frontage. The sheer opulence and utter extravagance commences at the lobby, which is perched on a cliff. From there a 'window lift' hurtles down to sea level where the spread of villas among lush tropical gardens is so extensive that guests wait for transport to their rooms at the 'Buggy Meeting Point'. The superlative Cliff Villas with pools are designed as New York-style apartments, with every inch modern and lavish; there's even a TV above the Jacuzzi. The suites in the four-level block are comparatively modest, while those at ground-level have direct access to the Infinity pool from their veranda. The resort caters extremely well for families, and is connected by shuttle bus to Nusa Dua, with its cafés and mall, about 4km away.

Spacious, secluded villas with gorgeous views – even butlers provided. Dotted along the cliffs about 6kms from Nusa Dua, this trio of villas contain three or four bedrooms (each with an en suite bathroom). They all feature a walk-in closet, home theatre, extensive kitchen/dining area and sizeable Infinity pool surrounded by wooden decking, while the largest offers ultra-luxurious extras like a Jacuzzi and games room. The bathrooms are truly open-air, with the toilet even offering views of the lovely gardens. Everything about the Asmara (which means 'romance' in Indonesian) is spacious, airy and bright, maximizing the breezes and views from the cliff-top setting. Some might regard it as too remote; others may consider the isolation is part of the attraction.

Contemporary, intimate and elegant, with endless sea views. Far smaller and less pretentious than neighbouring mega-resorts, the Ulu Segara faces a narrow private beach that disappears at high tide. The Ocean Villas are massive, with a modern décor, garden inside and out, and plenty of windows. They also contain a bathroom as large as the bedroom, plunge pool with a gazebo and wooden decking, and a comfortable living/kitchen/dining area. In the curved six-level block overlooking the cliff-top infinity pool, the Ocean Suites feature a stylish Asian décor, kitchenette, huge lounge area and broad balcony from which the sea views are sublime. The constant crashing waves can be loudish, and the regular shuttle bus to Nusa Dua (5kms away) compensates for the isolation.

Hotels on Map: Sakala • Grand Mirage • Hotel Nikko • Conrad • Holiday Inn • Sol Benoa • Club Med • Sofitel • Nusa Dua Beach Hotel • Westin • The Laguna • Melia • Grand Hyatt • Merusaka • Novotel • St. Regis • The Bale • Mulia • Hilton • The Ritz-Carlton • Ulu Segara • The Asmara Heavenly Residence • AYANA
NUSA DUA – THE BEST HOTELS

The 13 Best Places to Stay in Nusa Dua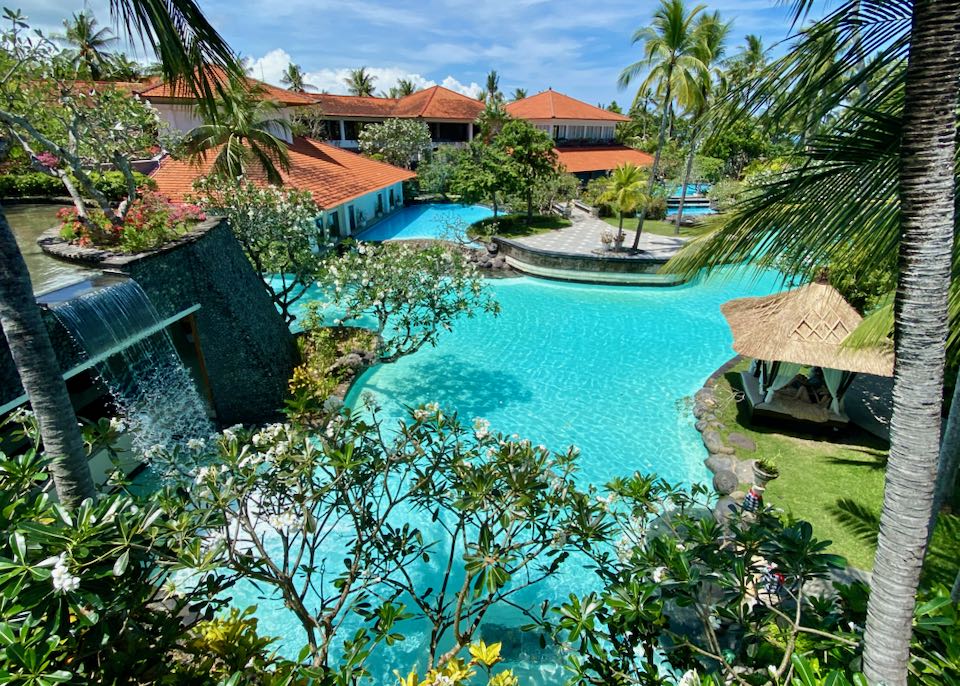 Pictured above: The Laguna in Nusa Dua.

Nusa Dua is home to more 5-star resorts than any other beach town in Bali. It's a great destination if you want to sit by the pool and drink cocktails. Not so great if you want to see the "real Bali". The beach here is lovely with the softest sand on Bali. There is a large shopping mall (Bali Collection) filled with high end western name brands but not the eclectic collection of shops that you'll find in Kuta, Seminyak, or Ubud. The area has benefits unheard of elsewhere in Bali: minimal traffic, wide roads, flat footpaths, zero hawkers. The world-class Museum Pasifika showcases arts and crafts from across Indonesia and the region. A lovely pathway lines the beaches at Nusa Dua and extends to Tanjung Benoa; the path is ideal for strolling and cycling – rent a bike from your hotel. There are also two world-class golf courses in the Nusa Dua area.

Massive, convenient and long-established, with arguably Bali's best beach. Within strolling distance of the mall, world- class Museum Pasifika and golf course, this resort faces probably the longest beach on the island; curved, sheltered and shaded, it is also one of the loveliest. The lobby sets the tone, with its lotus ponds, traditional thatched roof and welcoming staff. Rooms are in 'villages', gigantic traditionally-designed blocks spread over an inconceivably vast area of lawns, gardens and ponds. The rooms are spacious, and feature a stylish, modern Asian (not necessarily Balinese) décor, with wide balconies facing the sea or gardens, while villas offer more seclusion and privacy. Other attractions include the shady pools (with swim-up bars), tennis courts, arcade-cum-market and water-sports centre. The young ones would adore the endless activities on offer, playground on the beach, children's pool, water slide, and welcoming kids' club.

Five-star excellence, with opulent villas facing a perfect beach. This improbably vast resort offers all the amenities expected, with many pleasing Balinese touches, such as gamelan players in the lobby. The main lagoon-style pool is extraordinarily large and the extensive gardens are bursting with coconut palms. Fronting one of the longest and most postcard-perfect beaches on Bali, all villas boast a perfect seafront location. Tranquil, private and secluded behind walls and foliage, they feature the most modern appliances and furnishings imaginable, as well as a plunge pool and thatched gazebo. In a block facing the sea, the suites with ornate furnishings, walk-in closet and sunken bath are also stunning. The Kids' Club offers more cultural and engaging activities than most resorts. The resort is just outside the gated complex of Nusa Dua, but still within walking distance of the golf course and affordable shops and cafés.

Faultless luxury among vast tropical gardens in superb location. The grounds, substantial enough for guests to be provided with buggies and maps, are crammed with lotus-choked lagoons that dominate every view from every place. Few rooms are angled towards the sea, but all are spacious and superbly furnished with subtle Balinese touches. Balconies overlook the shady gardens and/or extensive lagoons, while verandas in the ground floor rooms open directly to a pool. Some of the seven pools even feature 'islands', 'waterfalls' and 'beaches', while the real beach is perfectly curved and immaculately groomed. Plenty of family activities are offered, such as tennis, yoga and water-sports, while the young ones would adore the kids' club, special pool and games room. And The Laguna is within walking distance of the mall, golf course, headlands (after which Nusa Dua is named) and world-class Museum Pasifika.

Balinese design and ambience with one of Bali's finest gardens. The Ayodya is old-fashioned (in a good way), tastefully designed and oozing tradition and charm. The lobby bursts with Balinese carvings and statues, while the gardens are exceptional, with seemingly never-ending ponds, swaying palms and lawns edging to the sea, as well as an amphitheater for live performances. The wide beach lacks shade but most guests congregate at the vast Infinity pool with 'islands' and fountains. The rooms are stylishly furnished with lovely Balinese-style cushions and lampshades, and balconies facing the gardens and pools. (None have sea views.) Plenty of activities are offered, such as squash, yoga and cycling, and the young ones would certainly enjoy the playground and kids' club. Unlike most others, this resort is also within walking distance of affordable cafés and shops.

Tasteful and traditional. The reminders of Bali around the grounds are numerous: carvings, tropical gardens of swaying palms, dragon spouts among ponds of lilies and goldfish, an ancient Banyan tree, and stone amphitheatre with nightly performances of traditional dances. All rooms face the shady gardens sprinkled with Balinese-style thatched 'bales' (gazebos) for afternoon tea, which is included. Among the usual luxuries inside are extra seating, a decent-sized balcony and subtle, pleasing Balinese décor. The pool is particularly inviting, with extensive sheltered decking and a bar in the middle. The beach is lengthy, curved and immaculately-groomed, and the resort is ideal for families, with two children's pools and the colourful and airy Gecko Kid's Club offering many activities.

Convenience, contemporary elegance and family-friendly. Villas feature a stylish modern (but not Balinese) décor with a corner sofa, private pool and balcony/veranda with a rocking chair overlooking the gardens and ponds. Rooms flank a massive lagoon-shaped pool that connects all the four-level blocks, so those on the ground level have direct access to the pool from the veranda. The gardens are comparatively modest, but still immaculate, while shady lawns creep right up to the beachside cycle path that meanders through Nusa Dua. It caters well for families, with a Kids' Club offering many activities, and a spotless private beach protected by a reef, so it's shallow and calm. There are also several huge pools, one for children with a slide, and another with a swim-up bar. The Sofitel is within walking distance of Tanjung Benoa, thereby offering a wider selection of shops, cafés and water-sports.

Unpretentious, well-designed and welcoming for families. Although part of an international chain, this resort is truly Balinese, with traditional gates, ponds and statues, and a tasteful brown-and-white overall design. The comfortable rooms feature wide balconies with views of the gardens or pool (but not the sea). The spacious suites, with two or three bedrooms (each with attached bathroom) and a massive lounge/kitchen/dining area, contain a modern but pleasing Balinese-style décor. Lack of beach frontage is compensated by lagoon-shaped pools covered by vine-smothered pergolas and shuttle buses to the modest 2.28 Beach Club on a powder-white (but shadeless) stretch of sand. The commodious Kids' Club adjoins the children's pool and playground, and offers plenty of activities. It is accessible from two main roads, so many affordable shops and cafés are within walking distance.

Compact, understated luxury and excellent for families. Smaller and more personal than neighbouring mega-resorts, plenty of activities for the whole clan are offered, while the Kids' Club – with a playground with rock-climbing, trampoline and spa – is probably the best in Nusa Dua. (And, unusually, it accepts those aged under four.) Rooms in unexciting motel-style blocks offer views of the gardens or pools from the disappointingly undersized balconies, while only some enjoy genuine vistas of the ocean. The lagoon-style saltwater pool is shady, and has curved waterslides and even a 'beach', and the gardens are dotted with waterfalls and ponds packed with fish and flowers. It fronts a very scenic sheltered bay with immaculately raked sand lined with enticing lounge chairs. And The Westin is within a short stroll of the mall, golf course and excellent Museum Pasifika.

Affordable and convenient. The layout is pleasant enough, but a little odd, with the lobby/café jutting out on a higher level so pylons are inside the split-level pool underneath, and the four-level motel-style blocks 150m from the sea are unappealing. The rooms, however, are stylish, compact, and hidden behind some foliage, while those on the ground floor feature a veranda that leads directly to the main pool. There are no tropical gardens – only lawns which are immaculate, extensive and alongside the sand, but lack trees. The beach is also short of shade, but guests can shelter under the funky, colorful lounge chairs. Perhaps best of all are the rates, which are less expensive than most, and location: within walking distance of the mall, golf course and many affordable shops and cafés at the gate and along the public beach.

Perfect location, sublime beach and world-class gardens. Boasting one of the finest positions in Nusa Dua, the Melia is within walking distance of the Bali Collection mall, golf course, magnificent Museum Pasifika and twin headlands which lend Nusa Dua its name. The curved beach is also glorious: shallow, shady and sheltered, with, unusually, a café on the sand. Perhaps even more impressive are the landscaped tropical gardens of ponds and fountains with trickling water reminiscent of the wonderful water palace at Tirtagangga in eastern Bali. Although traditionally and tastefully designed, the outside of the buildings do need a facelift, but all rooms are comfortable and spacious, offering a broad balcony with views of the lovely gardens or lagoon-shaped pools large enough to have little islands. The convivial Kid's Club offers plenty of games, while the whole family can revel in numerous activities.

Luxurious and vast, with all-inclusive packages ideal for families. Part of the renowned international chain, this is the closest resort to Tanjung Benoa, thereby offering more cafés, shops and water-sport facilities within walking distance. The welcoming lobby is traditionally-designed, while the rooms are functional and lavish, with garden views, walk-in closet and a modern décor lacking any hints of Bali. The Club Med is perfect for families, with four types of Kids' Clubs (depending on age) offering a wide range of activities, such as the very popular Bungee Bounce, as well as an extensive playground and children's pool. The three pools are crowded, but the glorious beach, which is curved, private and protected by a breakwater, is empty. With passes available inclusive of all meals/drinks, activities and entertainment, some guests have no need to venture out during their entire holidays.

Secluded villas with pool in a remote and uninspiring setting. Outside the gated complex of Nusa Dua and distant from any cafés and shops, this cluster of 28 villas immediately fails to impress with its lobby designed with pillars and dripping pipes. The villas – which feature a modern décor, outdoor shower and private pool – are called 'retreats', with 'wellness packages' and 24-hour butler service also available. But there is more concrete and bricks than grass and trees, evidenced by the shade-less main pool. It lacks any ambience or charm, and nothing about the design or décor is remotely Balinese or even Asian. It also faces a busy main road and not a beach, but is within 300m of the Balé Beach Club. There is a 'no children' policy.

Pretentious and contentious mega-resort in remote location. Built controversially on the pristine Geger Beach and close to a sacred temple, Nusa Dua's latest resort is vast, opulent and ostentatious. The spacious one and two bedroom villas feature a jacuzzi on the patio and wonderful ocean views, while the private-pool villas with up to six bedrooms are back from the beach but also boast vistas of the sea. The beach is curved, shady and well-groomed, and the pools are massive, but lack shade and are spoiled by huge meaningless statues. The overall design is bland and unappealing, because so much space is taken up with pools that can't be used for swimming, gardens that aren't particularly tropical, and restaurants under the lobby that are dark and uninviting. The remote location with almost no cafés or shops nearby is offset by regular shuttle buses.

TANJUNG BENOA – THE BEST HOTELS

The 7 Best Places to Stay in Tanjung Benoa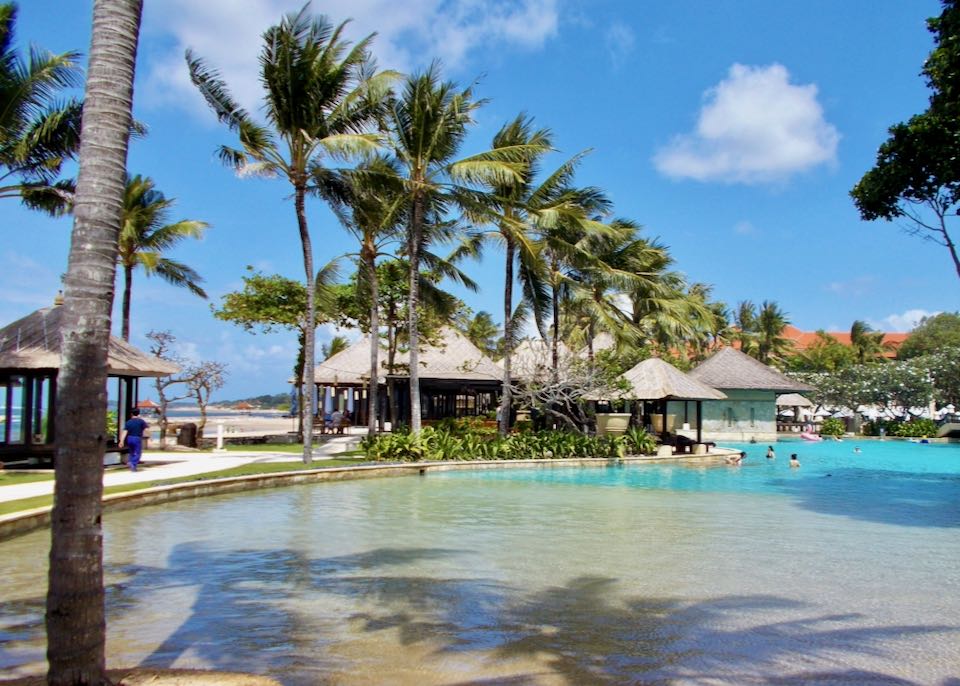 Pictured above: The beachfront pool at the Conrad Hotel in Tanjung Benoa.

Tanjung Benoa is the entire 'thumb' that protrudes northwards from the Bukit Peninsula and is located directly north of Nusa Dua. It is about 6km of long straight coastline with constant white sandy beach – almost no shade but plenty of stalls and cafés to sit at. Tanjung Benoa is a more affordable option than Nusa Dua, and has a good range of mid-range to top-end hotels, with several places catering well for families (but very little in the budget range). The area is the centre of water sports on the island and the best place to arrange jet skiing, parasailing, or banana-boat rides. Worth exploring is the likeable village of Benoa at the northern tip of the peninsula, which has the usual market, streets of local shops, and a mosque, Chinese temple, and Balinese Hindu temple within 200m of each other. The beach at the village is a good place to organise water sports at cheaper prices, as this is where most Indonesian tourists go. No waves for surfing but very calm for swimming (though you do have to watch out for jet skis).

For beach worshippers, with luxury inside and hedonism out. Straddling both sides of the noisy main road, this resort is ultra-modern, with nothing traditional at all. The main attraction is the Sakala Beach Club facing the sea, with an elongated Infinity pool, gym, spa, pool bar and Sky Deck with wondrous views. All accommodation is across the road, offering little or no genuine sea views, but is very comfortable and contemporary, if a little dark, while rooms on ground level have direct access to the lagoon pool from the veranda. The secluded two-bedroom villas feature a private pool but can suffer from traffic noise. There are no gardens and the beach is surprisingly ungroomed, but it is close to numerous shops, cafés and water sport kiosks, as well as the charming village of Benoa. The Kids' Club is modern and large, but indoors and not ideal.

Modern, luxury suites and rooms in prime location. The Conrad boasts three massive wings – one of suites, the other two of rooms – in four and five-level blocks with an appealing brown-and-white design. All accommodation is ultra-modern and immensely comfortable, with superb views of the garden and pool, while the suites are more likely to offer genuine ocean vistas. The gardens are extensive, with a beachside pool lined with swaying palms and another featuring its own sandy 'beach'. The private beach is wide and immaculately-groomed, with plentiful shade provided by thatched umbrellas. It also caters very well for families, with an excellent kids' club and activities for the family. Located along the southern part of the peninsula, plenty of shops, cafés and water sports kiosks are within a short stroll and Nusa Dua is a quick shuttle bus ride away.

Familiar, compact and functional, in a top-notch location. Part of a renowned chain, this comfortable, sparkling-new and low-key resort is close to Nusa Dua, thereby offering a wider range of cafés, shops, beaches and water sports. The overall design is not traditional, but still an appealing brown and white, with all rooms in a four-level motel-style block. Views from some balconies are unexciting, but the furnishings, with a long desk, comfy sofa and entrance lobby, are pleasing. Slightly larger and more likable are those with ocean views and direct pool access from the veranda. The sectioned-off swimming area along the curved beach is tiny and lacks shade, but is compensated by the inviting pool, while the bright and colourful kids' club, next to the children's pool, would please the young ones.

Family-friendly with traditional design in terrific location. With staff dressed in Balinese clothes and corridors lined with traditional sculptures, this resort is truly appealing, with the block of rooms and tropical gardens more tastefully designed than others. The spacious 'Deluxe' rooms feature a modern Balinese décor, as well as a Jacuzzi, but the balconies are surprisingly undersized, with views of the gardens (or even the resort next door); only the pricier 'Ocean View' rooms offer any glimpses of the sea. The beachside lagoon-shaped pool with swim-up bar is enticing and the young ones would relish the colourful Kids Club. About halfway up the peninsula, Nikko Bali is surrounded by shops and cafés, and adjacent to a major water sports centre. This does, however, affect the peacefulness of the beach, but a section of the sea is cordoned off for swimming.

Family-friendly with all-inclusive rates, adjacent to Nusa Dua. Part of the Melia chain, this resort offers three types of rooms with rates including meals/drinks, entertainment and a myriad of activities. Along the invisible border with Nusa Dua, guests have a wider range of cafés, shops and water sports, and quick access to the enjoyable outdoor mall. The beautifully landscaped gardens are packed with ponds and fountains, while the lagoon-shaped pool also offers plenty of shade. The private beach is inviting, with a cordoned-off swimming area along a curved bay. The overall design and décor in the rooms were recently renovated to a very appealing nautical theme of blue and white. Although there's no real kids' club, the location, pools, activities, beach, package deals and special suites make it ideal for families with teenage children.

Charming, affordable, and traditional. Part of the renowned Bumbu Bali Restaurant and Cooking School, the handful of rooms and villas are individually designed and positioned around delightful gardens like a Balinese village. All feature elegant traditional décor, with an open-air bathroom, marble floors and teak tables, but also contain mod-cons expected of a resort costing twice as much. All accommodation faces the tropical gardens, shady pool or enchanting courtyard bristling with busy kitchens, while secluded two- and three-bedroomed villas with a private pool are accessible along a cobbled-stone path. It is located about 100m west of the main road, far from traffic and jet skis, but close to a myriad of cafés and shops. Other attractions include a tennis court, cooking classes and off-street parking.

Family-friendly with massive gardens, traditional design and genuine views. Halfway up the peninsula, and surrounded by cafés, shops and water sports centers, this resort is bright, unpretentious and immensely appealing. The massive tropical grounds have been lovingly crafted, with seemingly endless lawns and lagoon-sized ponds. All rooms are spacious, feature an elegant traditional design, and face the sea – with most boasting genuine uninterrupted ocean vistas. Catering very well for families, it offers tempting all-inclusive packages, with meals/drinks and nightly traditional performances in its own amphitheater. There's also a bright and airy kids' club, children's pool, playground and games room, while other activities, such as tennis, yoga and cultural lessons, are also available to all guests. The beach is narrow, but it is free of jet-skis, and the beachside pool features an inviting swim-up bar.

UBUD – THE BEST HOTELS

The 15 Best Places to Stay in Ubud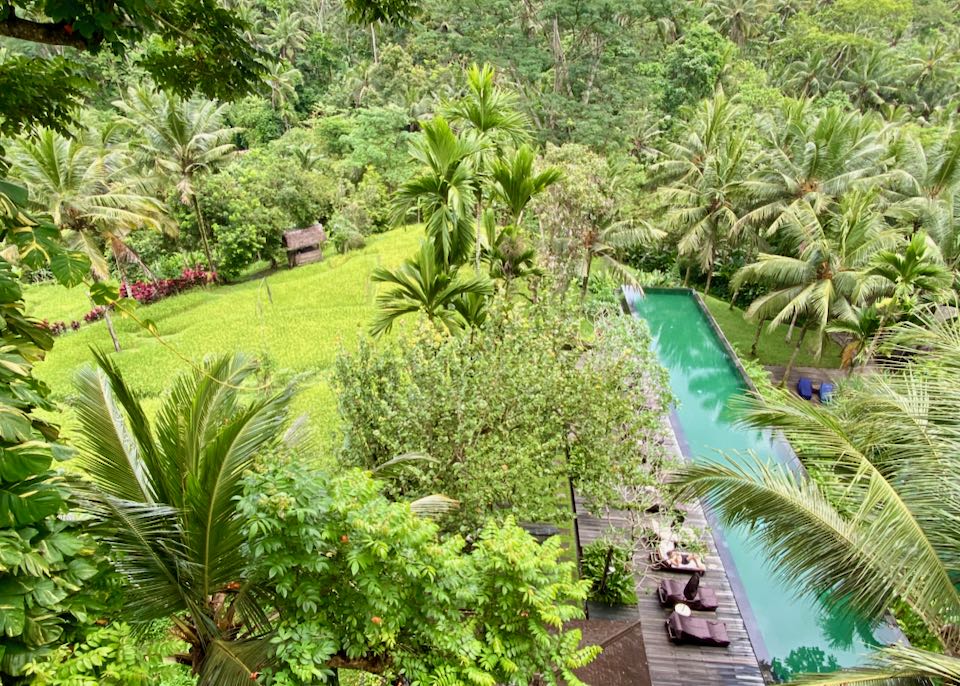 Pictured above: Komaneka at Bisma near Ubud.

The cultural heart of Bali – Ubud is where to go to watch traditional Balinese performances, take a cooking class, wander through rice fields, or buy from local artists. The food here is wonderful and some of the hotels have jaw-dropping settings. I highly recommend 2 to 4 days in Ubud.

Unimaginable opulence in dramatic, riverside setting. From the main road, a 200m path leads over a footbridge floating above a yawning valley to the lobby, which is shaped like a space-ship and seemingly suspended in mid-air with 360-degree views. The split-level suites with separate lounge/dining rooms face the river and jungle-clad ravine, while the villas with private pools are hidden behind high walls, sacrificing views for seclusion. All accommodation is spacious, luxurious and immaculately furnished, with ultra-modern touches like an expresso machine and sunken bath, but nothing looks or feels Balinese. Wide balconies and abundant windows maximise views, although the split-level Infinity pool with edges that seem to blend into the forest has arguably the best vistas in Ubud. And quite rare for Ubud, it also offers a kids' club. It's in Sayan, a 10-minute drive from central Ubud, but doesn't seem as isolated as other resorts nearby.

Romantic, award-winning boutique resort in pristine tropical setting. This classy resort offers truly personalised service, with the owners living on site and their children helping to run it. All 25 villas (with one or two bedrooms) are perched along a hillside, offering uninterrupted views of rice-fields and the valley. The spacious, airy villas feature a subtle but evident Balinese design and décor, with luxuries like a plunge pool, marble bathroom and expresso machine. The main Infinity pool seems to blend into the ravine facing it, while the spa and elegant bistro, with its imported chef and home-grown vegetables from the greenhouse, both share the same extraordinary views. The Viceroy is isolated, however, with no shops or cafés within walking distance, but only 15 minutes from Ubud by free shuttle bus.

Like an art museum, with individually-designed accommodation in vast gardens. Formerly a private guesthouse owned by a Balinese art collector, this is one of the largest, oldest and most memorable hotels in Ubud. The grounds contain statues, rice-fields and ponds packed with swans, and are extensive enough to feature an organic vegetable garden, tennis court, temple and art gallery. But there's only 20 suites and villas (with private pools), each separately designed and traditionally furnished by the previous owner, with carved bed stands, an outdoor sunken bath and even a fireplace. The rooms are spread out, offering genuine privacy, while the elongated main pool is surrounded by lotus ponds and immaculate lawns. It is a 15-minute drive from downtown Ubud, but some shops, cafés and the Goa Gajah elephant temple are within walking distance.

Almost unparalleled luxury in the midst of Ubud. Facing pristine jungle spread across a ravine, and surrounded by rice-fields, this resort feels remote but is only a 10-minute stroll from all the shops and cafés along Monkey Forest Road. The two Infinity pools, lined with palm trees and surrounded by rice-fields, appear to blend seamlessly into the environment, while a 5km jogging track meanders among the wilderness. The one- and two-bedroom suites are all opulent and feature a modern décor that is not particularly Balinese. Extraordinary 180-degree views of the forest, ravine and rice-fields are available from a balcony extensive enough to easily fit a table, chairs and sofa. Even the bath offers remarkable views. The villas are more secluded, but equally luxurious, with a private pool and gorgeous kitchen/dining area.

Individually-designed villas in pristine valley, ideal for honeymooners and families. About 10 minutes' drive from downtown Ubud, but within walking distance of some shops and cafés, this sophisticated resort boasts a traditional, rural setting. Sort of designed like a Balinese village, the chalets and villas (with one, two or three bedrooms) face rice-fields, lagoons, private gardens or the valley. The vast landscaped gardens are sprinkled with palms, gazebos, fountains and statues, and the Infinity pool facing the ravine features an inviting swim-up bar. All accommodation is traditionally designed, with a massive bathroom containing an outdoor shower and sunken bath, four-poster bed, and plentiful luggage space, while some also have a private pool. Although actively promoting romantic getaways, it also caters pleasingly well for families, with a wide range of activities for kids and the whole clan, and a children's pool.

Luxury and unique setting in exquisite grounds of museum. Set among the gardens of the internationally-renowned ARMA Art Museum, this hotel oozes tradition, charm and elegance. The spacious rooms are in a traditionally-designed stone block facing the pool, gardens or flowing creek, and surrounded by a convivial corridor lined with rattan furniture. The décor is modern but Balinese, with ornately-carved doors and a marble bathroom. The secluded split-level villas are the essence of luxury, with plentiful Balinese arts and crafts, a massive private pool, outdoor Jacuzzi and corner sofa overlooking the greenest possible rice-fields. The main pool is enclosed by chequered stone decking and flanked by a thatched open-air lounge area, while the gardens are bursting with carvings, lily ponds and cobbled paths. Elsewhere on the grounds, there are three stylish cafés and plenty of facilities just outside the entrances.

History and ambience in a dramatic but central location. Built for Balinese royalty in the 1920s, this colonial-style landmark oozes tradition and charm. It's spread across two jungle-smothered valleys and faces a 900-year-old temple – but, remarkably, is within a 15-minute stroll of downtown Ubud, three major art museums and numerous classy cafés in Penestanan village. Around the grounds, paths zigzag past lotus-filled ponds, an open-air yoga shala (studio) and the lovely spring-fed swimming pool to the raging river below. All rooms boast uninterrupted views of the forest, valley or river, and feature an adorable Balinese design (eg thatched roof and ornately-carved doors) and exquisite traditional paintings, woodcarvings and cushions. The bathrooms do need some updating but the entire hotel – complete with library and movie lounge – is delightfully old-fashioned, and in a good way.

Ambience, seclusion and tradition in stunning valley setting. Designed by the local royal family to resemble a Balinese village, steep mossy paths meander past lotus ponds and trickling fountains to secluded villas spread across the slopes. The gardens are so lush that the foliage sometimes spoils the views, while the finest vistas are at the Infinity pool with edges that seem to drop off into the valley below. The 24 palatial villas feature a charming Balinese décor, with a four-poster bed, thatched roof, Jacuzzi, Balinese art, and open-air bathroom. Each is truly private, hidden behind stone walls and secure gates that do affect the views, however, although plentiful windows face the immaculate private gardens and pool. It's only 5 minutes by shuttle bus from central Ubud, and within a short stroll of many classy shops and cafés, as well as the Bintang Supermarket and Neka Art Museum.

Opulence without indulgence, but isolated. Facing the (surprisingly noisy) Ayung River in Sayan, a 15-minute shuttle bus trip from central Ubud, there is nothing much Balinese about the overall design. But the setting is dramatic, with views in every direction of ravines, rice-fields, hills and the river – and even the sacred Agung volcano on a clear day. The villas have one, two or three bedrooms, a private pool large enough for several more guests, dining table on the patio and floor-to-ceiling windows on three sides to maximise light and views. Villas are huddled together, however, to share the optimum panoramas. Other than the Balinese-style gazebo, all accommodation is ultra-modern, even with Picasso-style paintings above the marble bath. No cafés or shops are within walking distance, so it feels isolated, and the paths are steep (but offset by golf carts).

Tranquil, classy boutique resort in central location – and no children allowed. As the brochure states, it is 'exclusive, private and luxurious' – and, remarkably, only metres from the main road, with its numerous shops and cafés, and 200m from the renowned Monkey Forest. The Kamuela only offers 12 villas scattered across either side of a creek and secluded behind high walls among gardens dotted with Balinese carvings and shady palms. Each boasts a pool large enough for four and surrounded by wooden decking. The décor is modern, with a few subtle Balinese touches, and there's a delightful open-air lounge/kitchen/dining area, loads of luggage space, and sunken bath large enough for two. And everything – particularly the elongated desk and even the bath – overlooks the private pool and tropical gardens.

Extraordinary luxury in a jungle setting, still reasonably close to Ubud. The grounds stretch from a village street to the river below, so some rooms and facilities are only accessible via a remarkable funicular (sort of an outdoor elevator on rails). And the setting and views are sublime, yet it's only 10 minutes by shuttle bus to downtown Ubud. The bright, airy villas, with one, two or three bedrooms, face the river or cascade down the slopes, and feature wooden balconies facing the jungle-covered ravine and overlooking the private Infinity pools. These villas offer sheer elegance and luxury, with an expansive bathroom, bedroom(s) dotted with classy Balinese arts and crafts, separate living room, and even a personal massage area. The edges of the main Infinity pool seem to hang over the valley and are surrounded by vast wooden decking.

Traditionally-designed and mid-priced in perfect garden setting. Close enough to Monkey Forest that some of the pesky macaques occasionally visit, this cluster of only 10 bungalows is perched along the edge of a ravine, with a creek 100m below. Meaning 'lovely nature' in Indonesian, this charming hotel feels wonderfully isolated with only the sounds of trickling fountains and grateful birds. But it is located in the woodcarving village of Nyuhkuning (an extension of Ubud), with plenty of delightful shops and cafés. Each bungalow is bright, airy and individually designed in a traditional way. They feature enchanting Balinese-style furniture, a huge bathroom and many openable windows offering jungle views and valley breezes – but no 'distractions' like telephones and TVs. (Also, the cheaper one have fans, but this is often all that's necessary in Ubud's cooler climes.) The cobbled-stone path meanders down past ancient banyan trees to the pool overlooking the ravine.

Roomy, tranquil, central with rice-field views. Recently renovated, this deceptively large boutique hotel offers spacious rooms with some charming Balinese décor. The newer and larger rooms in a block further from the busy road feature a free-standing bath, elongated desk and plentiful luggage space. The appealing bamboo-lined verandas/balconies of all rooms overlook the sparse gardens or pools, and are easily wide enough for a table and chairs. The two lagoon-shaped pools are shady and peaceful. Remarkably, some rooms genuinely face rice-fields, yet the main entrance is so central: at the junction of Monkey Forest Road and Hanoman Street, with its array of classier shops and cafés.

Tranquil, traditional and tropical in central location. The overall design is a pleasing mix of modern and Balinese along the narrow grounds stretching from the busy main road to unspoilt rice-fields and coconut plantations. The rooms are in a motel-style block, with some facing the road and the rest fronting the pool and gardens, but all are spacious and airy, with wide balconies. Most of the more appealing bungalows, which are separated and face the creek, feature vine-covered stone walls raised above the cobbled path for maximum seclusion, privacy and views. The pool (with bar) is smothered with shadows from a neighbouring resort, but the hotel's location is superb: mid-way along Monkey Forest road, with its plentiful shops and cafes, and walkable to the market and Monkey Forest.

Traditional mid-priced option, oh-so-convenient yet oh-so-serene. Arguably boasting the prime location in downtown Ubud, the bungalows face verdant rice-fields alongside a quiet suburban street or front a creek with a bridge and temple, yet it's only 100m from all the shops and cafés along Monkey Forest Road. One of Ubud's oldest and most affordable, Nick's offers so much charm, shade and serenity. Most rooms are bright and airy (but a few are dark inside), and all are traditionally designed but modestly furnished – within nothing trendy like sliding doors or open-air showers. The gardens, with mossy paths meandering past Balinese statues, are glorious, while the decent-sized pool alongside the café overlooks the rice-fields.

SANUR – THE BEST HOTELS

The 13 Best Places to Stay in Sanur
Pictured above: The brand new Andaz Hotel on Sanur Beach.

A quieter alternative to Kuta-Legian-Seminyak. A nice beach (though narrow in spots) and calm waters (protected by a reef) make Sanur popular with families. Lots of restaurants and shopping. Nightlife is restrained but still plenty of places to get a late night drink.

Delightful, traditional resort in first-rate beachfront position. Family-owned for about 60 years, this hotel has been significantly modernised without sacrificing any charm. The sprawling gardens are well-established with paths, ponds, fountains and even an ancient banyan tree. The 'deluxe' rooms are compact and comfortable, with Balinese touches and a broad balcony overlooking lush grass or one of three pools. More appealing are the bungalows shaped like Balinese rice barns and concealed behind tropical foliage. Pleasing extras like a library and tennis court are also offered, while part of the spotless beach has been sectioned off for the private beach club. It caters reasonably well for families, although there's no Kids' Club. Plenty of cafés are along the beachside path, and it's only a 1-wood drive from the golf course.

Traditional design with modern comforts facing excellent beach. Conveniently located half-way along Sanur, this resort is long-established and back from the main road, so the tropical gardens, with Balinese-style fountains and statues, are extensive and tranquil enough to hear birds singing. The rooms are unusually designed: some are shaped like Balinese rice barns, with separate rooms upstairs and down; and others are like an old-fashioned homestay with doors facing a common veranda. All rooms are spacious and comfortable, however, and feature traditional furnishings, but many seem huddled together. In contrast, the single-storey villas are spread apart and some are hidden behind walls with private gardens. The beach is broad and shady, and there is a kids' pool and enticing games area, but this resort would be more suitable for families with older children.

Contemporary, with pools instead of gardens in an unbeatable spot. Squeezed into a space next to the popular Hardy's Supermarket, this place boasts a prime location for shops and cafés, although it is pleasingly set back from the busy road. All rooms are in four-level blocks overlooking the pool that takes up all ground-level space between blocks. Inside, the rooms are compact and functional, without being overly spacious, and feature a lovely wooden décor that extends to the undersized balcony that, oddly, feels like a cage. Considerably more appealing are the ground-level rooms with wooden decking for verandas that open out directly to the pool, which can often be busy and noisy. The resort doesn't face the beach but is only 300m from the sea.

Modern design and traditional décor in tropical setting and central location. This hotel has been family-owned for over 30 years. The entrance is about 100m from the main road, so it's quiet, while still being in the midst of Sanur's best shops and cafés. The rooms are in modern but tastefully-designed three-level blocks among lovingly landscaped tropical gardens with Balinese-style statues and fountains. Each room faces the pools and/or gardens from wide balconies and feature colourful Balinese décor. The suites are even more spacious and boast four-poster beds and a sunken bath. The three pools are sizeable and shady, with unusual designs, while the beach is powdery-white and well-groomed, although not entirely private.

New and older-style villas in central but tranquil location. This hotel is in a narrow block stretching 200m from the beach to the lobby, which is 100m from the main road, so it's quieter than others. It only offers villas, with the older ones separated by high walls and accessible along a village-style path. With lush private gardens, old-fashioned furnishings, plenty of windows and decent-sized balconies, guests can enjoy privacy without feeling isolated. The newer villas are in two-storey buildings shaped like Balinese rice barns, with sloping roofs, and less secluded but more modern inside. Although named after Nusa Penida island, no villa has views of the sea, let alone that distant island. The beach is a bit unkempt and has no shade, and the main pool is, unusually, near the lobby and not facing the beach.

Fully-equipped apartments in unappealing location offset by facilities galore. Although facing the very busy Bypass Road, this resort is somehow remarkably quiet – and certainly huge (like its sister, the Sanur Paradise Plaza Hotel). The spacious, bright and modern suites-cum-apartments offer functionality over tradition. Each contains a fully-equipped kitchen, spacious lounge/dining area and one, two or three bedrooms, each with separate bathrooms. The main pool is truly massive, shaped like a lagoon and sparkling blue. A vast amount of activities (water slides and kids pools) are offered at the extensive Camp Splash! Kids Club. No shops or cafés are nearby so hourly shuttle buses ferry guests around the main shopping district and to the private, luxurious Sand Beach Club.

Modern, quiet, but isolated – also with members-only facilities. This resort is massive but feels less impersonal than others of similar size. Although at the far southern edge of Sanur, with enough shops and cafés nearby, it is isolated – but also quiet. Among the expansive lawns several wings of rooms feature traditional design or colonial-style features. The bungalows are old-fashioned with an ornate Balinese-style door and plenty of traditional paintings and furnishings. These are secluded and spacious, with garden views, but also a little dark. Rooms in the members-only Santrian Club are modern, with a four-poster bed, walk-in closet and bathroom offering garden views, but no Balinese décor or design. The four Infinity pools are dazzling, while numerous gazebos face the beach, which is calm, sheltered, mostly private and perfectly curved.

Ultra-modern, with emphasis on room luxuries rather than gardens. Bordering on futuristic in design, this gigantic resort seems stark, with far more concrete than lawns. Some swaying palms do provide limited tropical ambience but the multi-tiered ponds and non-swimmable pools seem pointless. All rooms feature a walk-in closet, massive bathroom with free-standing bath, and long enclosed balcony. The secluded villas contain one, two or three bedrooms, and some feature a spa, steam room and private pool. The main Infinity pool is raised, offering superb views of the curved beach which is partitioned from jet skis. The resort is where the mid-section of Sanur with its many shops and cafés blends into the tranquil southern part, so it doesn't feel isolated. For the young ones, there's a water slide, playground and Kids' Club with many activities offered.

Not beachside, but modern, luxurious and surrounded by pools. Although not facing the sea, it is in a prime location for shops and cafés, and only a five-minute stroll to the beach. All precious space in this new resort is occupied by blocks of rooms that are 'connected' by swimming pools, so there are no gardens. The 'deluxe' rooms are so packed with furniture, appliances and features (such as a Jacuzzi) that they seem crowded, and not all balconies overlook the pools. Better are the ground-level rooms with a veranda leading to a tiny private pool that opens out to the main shared pool. This pool is split-level, fringed with palm trees and large enough to feature bridges to 'islands'. The lounge chairs that seem to float in the shallow end are particularly inviting.

Oozing tradition and charm in top-notch location. Built way back in 1962, the 'Cape of Flowers' is one of the very first hotels in Bali, let alone Sanur. It was designed to resemble a Balinese village so all buildings are on one level, and mossy paths meander past ponds of voracious goldfish and stone bowls choked with lotus flowers. With all rooms 100m+ from the main road, it is serene but also within a brief stroll of endless cafés, shops and the golf course. The villas are separate and secluded behind lofty stone walls, and feature an elegant and, often, individual design that is traditional (eg with a four-poster bed) and modern (e.g. a sunken bath). The only two-level structure onsite contains a reading/viewing area overlooking the captivating seaside path and divine beachfront pool.

Convenient, comfortable and also suitable for those on business. Although on a very busy corner about 800m from the beach it somehow seems to avoid the relentless traffic noise. The rooms are squeezed into an unappealing motel-style block without balconies but are certainly comfortable and spacious, with bright and modern Balinese décor. Those on the ground floor have direct access from verandas to the shady lagoon-shaped pool. While convenient to renowned fast-food outlets, the golf course and speedboats to the Gili Islands, it is in northern Sanur, a fair distance from the region's best shops and cafés. However, a shuttle bus ferries guests around Sanur, to the private Beach Club, and to the Paradise Plaza Suites, with its water slides, kids club, and huge pools.

Opulence and luxury in ultra-modern resort. Opened in early 2015, there is nothing remotely Balinese or even Asian about this place, with an entrance resembling a Mayan temple from Central America, but it does offer state-of-the-art facilities. In a narrow block stretching from the busy road to the beach, it's in a prime location surrounded by classy shops and cafés. But there are almost no gardens, with all ground space taken up by elongated pools. The rooms are spacious and cheerful with modern but tasteful design, while the suites with private pools are even more chic. All rooms face the 'lagoon' (i.e. pool), with those on the ground-level having direct access from wooden verandas. The beach has no shade and is surprisingly scruffy, but the beachfront family pool is gorgeous.

Massive family-friendly resort, but isolated and motel-like. It is at the southern edge of Sanur, a classier area with fewer (but enough) cafés and shops – but also with far less traffic and crowds. The unusual enclosed lobby opens out to the expansive lawns dotted with swaying palms and stylishly-designed gardens. Despite all the space, however, the rooms seem clustered together in uninspiring four-level blocks too far from the sea for any worthwhile ocean views. The standard rooms also appear cramped inside, although certainly comfortable, while the Deluxe Rooms are more spacious. The beach is immaculately-groomed, wide and virtually private, and the pool is large and sparkling blue. For families, the Kids' Club is bright and inviting, with many activities offered; the children's pool features a slide and playground inside; and the numerous gazebos are large enough for four.

EASTERN BALI – THE BEST HOTELS

The 11 Best Places to Stay in Eastern Bali
Picture above: The fantastic setting of the Griya Villas & Spa.

Genuine eco-village resort with some of the finest views on Bali. The one, two, and three bedroom villas are tiered along the cliffs, each offering jaw-dropping views of the rugged coastline along eastern Bali. Each villa is comfortable, but a little rustic, with a kitchen, open-air bathroom and high thatched roof – but no real walls, with windows, a balcony and empty spaces maximising the vistas and breezes. The villas are separated and secluded behind walls and/or private gardens. The indescribable views are equally shared with the yoga deck, art gallery, spa and restaurant, while plenty of activities are also on offer. It is within a short (but steep) stroll of the charming village of Padangbai and only 200m to the Crusoe-esque Bloo Lagoon beach.

Opulent and secluded villas with arguably the best views on Bali. Each one-, two- and three-bedroomed villa features a modern, classy interior, and a private pool, charming kitchen, vast bathroom with a free-standing bath and open-air shower, and plentiful luggage space. And indescribable views from all windows. Squeezed between the coastal road and mountains, the villas are tiered up a steep cliff, so a golf cart is offered to get around. The whole place, particularly the lobby with its Infinity pool and bistro, is spacious and open-aired, offering welcome breezes and constantly striking panoramas of the ocean and hills. It is located in the less developed Bunutan village, so the beach and shops and cafés are a short, but flat-ish, walk away.

Serene and spacious, with plenty to offer families. The Rama is one of very few large and modern resorts along the east coast, but it somehow manages to seem compact and personal. The lack of adequate beach is massively compensated by the gorgeous palm-fringed pool. The expansive gardens, with immaculate lawns, swaying palms and trickling fountains, are quiet enough to hear birds. The 'superior' (standard) rooms are sizeable and noteworthy for the Balinese photos and carvings, while the one-bedroomed suites are secluded with perfect sea views as far as Lombok. The resort is a peaceful 200m from the main road but an inconvenient 1.5km from central Candidasa, but it does offer varied activities (often for free) for families, such as yoga and cultural classes.

Classy and convenient lower-priced resort with genuine beach frontage. The tropical gardens are choked with palm trees, and it's built at sea level, so walking to nearby cafés and shops is not too strenuous. The bright and airy bungalows, which are distant from the main road, feature chic Balinese décor, with an extensive balcony, open-air bathroom and a king-sized bed dominating the room. Those with ocean views (more like glimpses) boast a private pool and sliding doors to maximise views and breezes. It is located at an upward bend along the main road, so the pool, gardens and café (but not rooms) can be noisy but it does face a beach that isn't rocky – although the sand is lined with fishing boats.

Cottages among gorgeous gardens offering serenity amidst the action. A meandering mossy path from the main road leads up into the hills where a small number of cottages offer remarkable tranquillity under the dramatic backdrop of Mt Agung. With bubbling fountains and trickling water drowning out the traffic, genuine seclusion and privacy is created by thickets of flowers and shrubs rather than brick walls. Each cottage is separate, secluded and designed to face elegant private gardens and ponds choked with goldfish and lilies. The cottages are bright and airy, with plenty of windows offering 360-degree garden views. The attached café is classy but along the main road, while the pool is small but inviting. The entrance is along the main drag and barely 100m from the sea.

Taste of colonial splendor in a charming village. Despite the modest moniker, this new resort oozes colonial charm with its whitewashed walls and wood-stained doors in a three-level block. The tropical feel is enhanced by the sloping palms flanking the main pool, but only rooms on the top floor can boast sea views. Each room features a lovely tiled bathroom, and shares an extensive balcony overlooking the pool, but some are a little cramped inside. The location is ideal, however: facing the village beachside street, with its delightful cafés, and only metres from the jetty for the Gili Islands. And the appropriately-named Colonial Restaurant faces the curved bay and second pool, which is often used by on-site diving classes.

Affordable and convenient resort catering for families. With its low-key but welcoming beach club atmosphere, this place offers a range of rooms, apartments and villas in a tranquil location only 200m from the main road with all its cafés and shops. The all-round views of the hills, coastline and islands offshore from the pool and upstairs rooms are superb, while a breakwater creates a tiny beach with safe and sheltered swimming. The standard rooms are comfortable and functional, and the apartments offer a separate lounge/dining area, kitchenette and enough room for extra beds for children. All accommodation is huddled together, however, so rooms could be noisy, especially if facing the pool. Plenty of interesting activities are offered for the family, such as cooking classes and snorkeling.

Secluded villas with tasteful Balinese décor, only metres from crashing waves. Most villas face the sea, and are pleasingly not huddled together. All are quietly located away from the main road and front an Infinity pool that somehow blends into the azure horizon and is surrounded by palm trees. The villas are spacious and feature lovely wooden décor with Balinese touches, as well as an extensive balcony. The cheaper rooms layered up the cliff on the other side of the road also offer superb views, while the roadside café is breezy, popular and lined with comfy cushions. There is no beach below, however, and there aren't that many shops and cafés nearby.

Traditional, exquisite and affordable, in a serene location. Along a laneway in the tranquil eastern end of Candidasa, but only a few minutes' stroll from shops and cafés, each cottage is hidden behind a stone wall, so it genuinely feels like a Balinese village. Each cottage is cheerful and spacious, and traditionally designed and furnished, with thatched roofs, ornate carvings and Balinese rugs, arts and crafts. Other accommodation is built like traditional 'lumbung' rice-barns, with sloping roofs, and sea views from the second level. Meandering stone paths lead to the lagoon-shaped pool, which faces the dramatic coastline and alluring islets just offshore. Like most others in Candidasa, the beach is typically grey and undersized, and often unsuitable for swimming.

Traditionally-designed bungalows with genuine beach frontage. Facing a clean – but very rocky – beach with no boats to spoil the views, the Santai can offer perpetual views and refreshing breezes. The spacious two-level bungalows are away from the road and alongside a rocky path lined with bougainvillea. Designed like traditional houses found in the Sulawesi province of Indonesia, these bungalows feature a high thatched roof, stylish rattan furniture and an open-air shower, but the design does ensure the need for constant air-conditioning. The lower level contains a futon mattress for relaxing, which can double as a bed for a child. From the delightful tropical gardens, which are dotted with gazebos, is the continuous sound of crashing waves. It's located on a flattish road flanked by cafés and shops.

Amid the action, yet tranquil and relaxed. The cottages offer agreeable garden views from expansive verandas, as well as a separate lounge/dining area and massive bathroom, but they are a bit dark inside, clustered together in a narrow block, and contain unfitting marine photos on the walls. More appealing are the two-storey, three-bedroom villas, which are secluded, airy and spacious, and boast sea views. A curved terrace covers the classy bistro, while nearby steps lead to a sheltered swimming area. But most guests prefer to relax on the sunbeds, lounge chairs and gazebos among the tropical gardens or on the raised sandy area with dramatic ocean views. The lobby with its welcoming Balinese décor is only 50m from the main road with endless cafés and shops, but rooms are sheltered from the continual traffic noise.

NORTHERN BALI – THE BEST HOTELS

The 7 Best Places to Stay in Northern Bali
Picture above: The beachfront pool at the Adi Assri Beach Resort & Spa.

Spacious resort with traditional design and lush tropical setting. With extensive beach frontage, and a stunning mountain backdrop, this resort boasts one of the most expansive grounds on Bali. The one- and two-bedroomed villas, each with a private pool, open-air kitchen/lounge/dining area and charming gardens, are not totally secluded or entirely private, but the Balinese-style design and modern furnishings are impossible to fault. The 'suites' are more secluded in a two-storey block, and feature a kitchenette. The beach is typically grey, but immaculately maintained, and the vast gardens are dotted with Balinese-style statues and fountains. The massive pools are framed by palms and face the enchanting coastline. The resort is located 300m from the main road, with a limited selection of cafés and shops nearby.

Luxury, tranquillity and convenience, and ideal for families. This resort is set in a massive block facing the sea and 300m from the main road, with its relentless traffic. The suites open out to the main pool but are a bit dark inside, while the secluded villas feature a massive kitchen/dining/lounge area, sizeable private pool and sea views. The palm-choked gardens are spacious and the two beachfront pools are very enticing. It caters particularly well for families, with a range of activities offered free to guests, such as yoga and dance lessons. The Lovina is only a 10-minute stroll along the road or beach (or on a free shuttle bus) from Kalibukbuk, with the region's best selection of shops and cafés.

Convenient and unpretentious mid-priced option that welcomes families. First built in 1953 but extensively renovated and extended since, it still retains some genuine charm. The rooms are distant from the constant traffic and many face the sea, while the gardens are delightful and the decent-sized pool would never feel crowded with guests. The 'standard rooms' only offer fans, but the more comfortable and secluded 'cottages' feature air-con, traditional rattan furniture and appealing balconies. The family-sized bungalows are bright, surprisingly spacious and particularly good value. The beach is typically grey, but unusually clean, shady and picturesque with swaying palms. The hotel is only 200m from Lovina's best selection of shops and cafés in Kalibukbuk.

Delightful tropical setting and traditional design with mountain backdrop. Stone paths flanked by palms and bougainvillea meander through gardens so extensive that even staff can get disoriented. The villas are semi-detached but secluded, and feature a private pool, but none of the accommodation offers real sea views. The 'deluxe' rooms are spacious, with an open-air bathroom, tasteful Balinese décor and largish balcony overlooking the alluring gardens. The three main pools are so enticing that guests ignore the typically grey and gritty beach, which is also surprisingly scruffy. The resort is located along the busy road, with its modest selection of shops and cafés, but well sheltered from traffic noise.

Luxury villas – new, secluded and convenient. Probably the nicest of its kind in Kalibukbuk (which has the best selection of shops and cafés in Lovina), these villas are located along a quiet country lane used more by cows than tourists. Each of the three sparkling-new villas is bright and airy, and offer absolute privacy and seclusion behind high walls. They feature a gorgeous open-air (but undercover) lounge/kitchen/dining area and two separate bedrooms, both overlooking a private pool large enough for five people. Little touches, like a modest library in the lobby and umbrellas for guests, are part of the personal service often not found in large resorts.

Cluster of villas – chic, convenient and popular. These one- and two-bedroom villas are cosy and secluded behind rather stark grey walls. Each features a private pool, while many also face the sea, and the décor is fashionable and tasteful. The gardens and beach can be noisy from the incessant traffic but the villas are sheltered from the noise. Although the sand is typically grey and gritty, the views, especially from the café facing the sea and main pool, are superb. Lilin is located where the main road almost touches the sea. It is barely 700m along the road or beach from Lovina's best range of shops and cafés at Kalibukbuk, and a short stroll to the classy Spice Beach Club.

Luxury without extravagance in an irresistible setting. This is one in a chain of luxury resorts across the island and sort of designed like a Balinese village, so none of the accommodation faces the sea. The Deluxe Cottages look over genuine rice-fields or dense foliage, which offers some limited privacy. They are attractively designed with Balinese-style carved doors, thatched roof and tiled balcony, but a little dark inside. The Superior Rooms are designed like an old-fashioned homestay, with rooms facing a shared but partitioned veranda, but are still appealing inside. The beach is typically grey, but the seaside pool is sizable and inviting. The resort is 150m from the main road, with its relentless traffic, and within a 10-minute stroll of Lovina's best selection of shops and cafés at Kalibukbuk.

Bali Hotels with Private Swimming Pools and Plunge Pools
Hotels that offer suites, villas, and rooms with private pools are common in Bali. They're a wonderful experience and highly recommended if they fit within your budget.

Bali Hotels with Private Pool
Read More